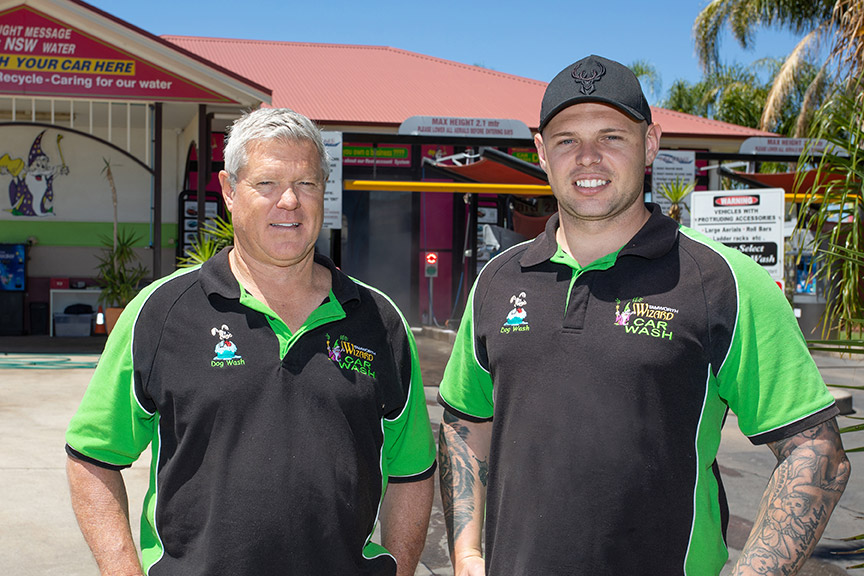 About Us
Tamworth Wizard Car and Dog Wash was established by Steve Earsman in 2005 and has been proudly servicing the local Tamworth community and surrounds ever since.
The Earsman Family have been major players in the Tamworth motor vehicle industry for over 50 years, starting with Steve's dad, Dallas Earsman working for JT Fossey back in the 1960's, then establishing Earsman & Donnelly Motors in 1985. Before too long was soon joined by his son Steve, who had just completed formal training in all facets of the motor vehicle industry. From the mechanical side, to panel beating, Steve had a broad understanding of all aspects of a motor vehicle.
It was through this business venture, that Steve discovered his passion for the car washing industry and began operating Eezee Wash King as a sideline enterprise. In the early 2000's Steve travelled to the USA researching the latest technology in car wash systems and returned to Tamworth ready to develop a premium car wash experience that utilized advanced technology to quickly and affordably clean your car while minimizing the impact on the environment.
In 2005 he proudly opened Tamworth Wizard Car Wash and, still today, continues to offer the highest level of customer service and customer satisfaction. The big difference Tamworth Wizard Car Wash offers their customers are the Driveway Attendants on duty every day of the year to assist with any questions you may have or to help prepare your car when entering the Autowash machines.  No other car wash in the area offers this level of customer service!
Tamworth Wizard Car Wash is very much a family run business with Steve's son, Shawn Earsman operating the car detailing arm of the business also.
Additionally, Steve also operates a national business brokerage firm specialising in the sale of car wash businesses and also sits on the Board of Directors of the Australian Car Wash Association and, as busy as Steve is,  on some days you can still find him on the driveway attending to customers needs and helping out. So come on down and give Tamworth Wizard Car and Dog Wash a go, and if you're lucky,  you might be welcomed by Steve himself!
"I have been a loyal customer to Tamworth Wizard Car Wash for many years now. The high level of service and products used result in a perfect wash time and time again. Arguably Australia's best Car Wash!"
The Westpac Rescue Helicopter Service from our Tamworth base has used Wizard Car Wash exclusively for our fleet of vehicles for a number of years now. This first-class facility is always immaculately presented, very easy to use offering a number of cleaning and payment options, and opens extended hours which allows flexibility for our staff.

Reece Tamworth use Tamworth Wizard carwash to keep our fleet and corporate logo looking sharp. The facilities are great and always kept up to date with the best equipment. I think its great that the boss-man Steve rolls up his sleeves and leads from the front, especially on weekends.